Vegan Omega 3 DHA Capsules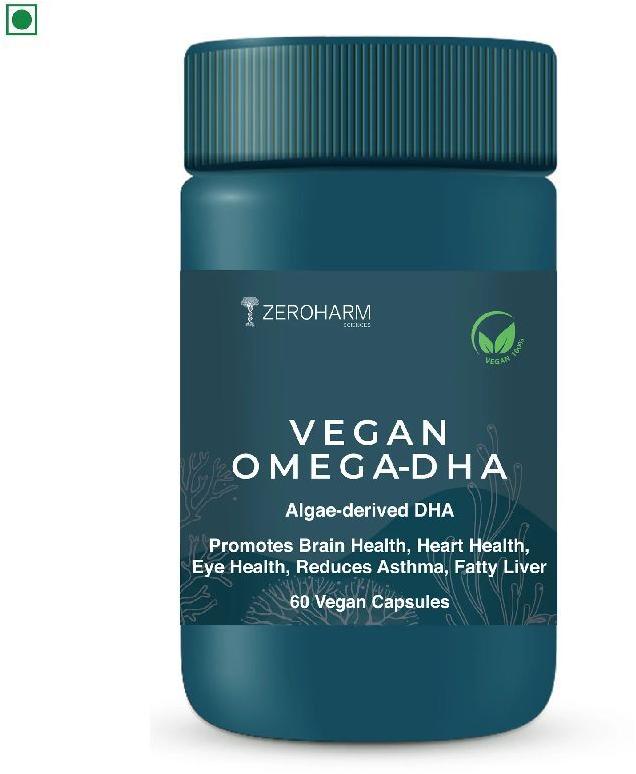 Business Type
Manufacturer, Exporter
Brand Name
Zeroharm
Vegan Omega-DHA (Algal DHA Powder from marine microalgae Schizochytrium sp.)
400 mg
Energy
2.04 Kcal
Click to view more
Product Details
Dosage
2 Capsules per Day or as Directed By Your Health Care Professional.
Packs
1 month
1 bottle
60 Capsules
Expiry: 1 year
Rs. 749.00
Save Rs. 326.00/-
₹ 12 / tablet
2 months
2 bottles
120 Capsules
Expiry: 1 year
Rs. 1,399.00
Save Rs. 751.00/-
₹ 12 / tablet
3 months
3 bottles
180 Capsules
Expiry: 1 year
Rs. 2,079.00
Save Rs. 1,146.00/-
₹ 11 / tablet
Docosahexaenoic acid (DHA) is an essential omega-3 fatty acid, which has to be consumed to maintain the normal growth and functions of a human being. It is used as a dietary supplement to promote the health status of children, adults, pregnant and lactating mothers. Veg omega-DHA is extracted from microalgae; thus it is 100% vegetarian, natural, and preferred worldwide.
Who will benefit from
You can benefit from this if :
People who opt for vegan Omega and are allergic to fishy taste.
Improves Brain Function in kids.
People who are prone to heart disease and stroke.
If you have high triglycerides or rheumatoid arthritis.
If you have eye diseases as it helps to treat dry eye syndrome.
Fitness experts recommend Omega 3 to boost workout performance, muscle recovery, strengthen joints, bones and muscles, reduce risk of heart conditions and much more. Analysis of research data has validated the role of Omega 3 DHA in boosting immunity and fighting immune disorders. ZeroHarm Vegan Omega 3 capsules have been demonstrated to be safe for pediatric consumption. Studies have emphasized the need of bioavailability, i.e. absorption by body. This led to the development of Vegan Omega 3 DHA that is completely absorbed by your body and comes with zero side-effects.
Looking for "
Vegan Omega 3 DHA Capsules

" ?
Pack